You don't need six degrees of separation to get from one Welsh speaker to another – it's rarely more than one or two. And sometimes the smallest villages are connected to the largest stories – it can be just a hop and a skip from rural Gwynedd to Hollywood or Radio 1. Here are a couple of the threads which have woven around my family and the village I grew up in.
Eleri was raised in Llanaelhaearn, a small village on the Llŷn Peninsula which sits below Tre'r Ceiri mountain, atop of which you'll find one of the best preserved Iron Age hillforts in the UK.

It is the village where Robert Lambert Gapper was born – the sculptor, art lecturer and designer of the Urdd Logo. It is also the village which was the centre of the largest recorded earthquake in Britain which measured 5.4 on the Richter scale – it took place at 6.56am on the morning of 19 July 1984. I was twelve at the time.
Eleri's family ran the bakery and the Glanrhyd shop on one side of the main road in Llanaelhaearn. My grandparents and my aunt ran the corner shop, Voelas Stores, on the opposite side.
Eleri attended the village school with her sister, her cousin, my older sisters and my cousins. I attended some years later with my brother, after an impassioned series of marches and protests in the early 70s were successful in keeping the small school open. It survived until the summer of 2020 when its doors finally closed for the last time.
Yes, we all knew each other in Llanaelhaearn, and those not related by blood or marriage were still aunts and uncles – even to this day I remain unsure as to who's officially related and who isn't.
This August I saw Eleri again for the first time in many years. You see, 50 years ago in August 1972, my cousin Eric (from Voelas Stores), married Eleri's cousin Elaine (from Glanrhyd). Eleri and her sister Margaret were their older bridesmaids and I (six months old) was their little flower girl. Last month, my cousins decided to share their 50th wedding anniversary celebrations with their extended family and so we all came together.
That one afternoon wasn't long enough for all the stories we had to share – stories from a small village community, stories fuelled by the albums of old photographs that were being passed from table to table.
I met Eleri's daughter, Sioned, for the first time that day – but her son, Owain, was unable to attend – I'd heard a rumour that he was busy feasting in the underground kingdom of Khazad-dûm.
Owain began acting when he was 11 years old, playing the role of Aled Shaw in the popular series Rownd a Rownd. Beyond that Welsh soap series based in the village of Porthaethwy on Ynys Môn, Owain's career went from strength to strength, and now he's playing a role in one of the greatest stories ever told.
On Friday evening, our family, like millions of others around the world, sat down to watch the first two episodes of the new Amazon Prime series, The Rings Of Power – and to see Owain play the role of the dwarf, Prince Durin IV. Although Owain himself never lived in Llanaelhaearn, I'd like to think that the shadow of Tre'r Ceiri where his mother was raised has in some way provided inspiration for his mountain dwarf ways.
I think that one reason why I love the peoples and communities in The Lord Of The Rings is because in some ways it reminds me of my upbringing in a small, rural Welsh community, and the inventive ways in which that community in the 70s and 80s pulled together to support each other.
The protests and marches to keep our village school open were just the beginning. At a time when adversity was hitting hard, when jobs were scarce, public transport insufficient and not many households able to afford owning cars, our small village needed a lifeline.
In 1970, Carl Iwan Clowes, his wife Dorothi and their son Dafydd Ieuan moved to Bryn Meddyg, the doctor's house in Llanaelhaearn. Carl was a socially conscious GP who became very aware of economic decline in the area and was very keen to make a difference beyond his medical practice. Carl became friends with my father and along with a few others they set up a village association with a view to improving the community. In the early 70s, Carl and my father took a trip to Oileán Chléire (Cape Clear), an island off the coast of County Cork. There they saw how the islanders had formed a cooperative to encourage self sufficiency, and create employment in various ways to strengthen the local community. As a result of their fact finding mission, Antur Aelhaearn was registered in Llanaelhaearn as the UK's very first village co-operative. Locals were able to buy shares in the scheme for £1, and the funds raised allowed them to start home-grown pottery and knitwear businesses.
Here's a short film from 1978 about Antur Aelhaearn – I'm the little redhead sitting on my sister's knee as she draws and paints.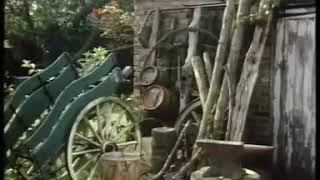 After the success of Antur Aelhaearn (or the Antur as we called it), Carl became the catalyst for the repair and regeneration of the old abandoned village of Porth y Nant. He set up a trust in order to buy the village, with the dream of converting it into a centre for Welsh language education.
A lot of hard work and financial support from various grants secured Carl's dream. Today Nant Gwrtheyrn offers both residential Cymraeg courses and online taster lessons for learners of all levels as well as being a very popular wedding venue. It also has an interesting visitor's centre, a cafe with one of the best views in Wales, some stunning coastal walks and is a wonderful place to stay.
During Carl and Dorothy's time in Llanaelhaearn, they had four children. Two of them, Dafydd Ieuan and Cian Ciarán, became members of the successful and very imaginative Welsh rock band Super Furry Animals. But it's not all about the music; much like their father, Cian and Dafydd have always kept environmental and welfare matters close to their hearts.
Carl, very sadly, passed away on the 4 December 2021 at the age of 77 – he still had so much more to give.
Llanaelhaearn isn't much to look at as you drive by. In fact you hardly notice it. It doesn't boast any notable architecture and both Glanrhyd and Voelas Stores closed their doors many, many years ago.
But all is not lost – Antur Aelhaearn is still going strong, as is a new community village garden cooperative. If you do ever find yourself in the area, please stop to see the wonderful mural painted on the side of the Antur building, which pays tribute to the creative people woven into the tapestry of this unassuming village.
Each time I pass through, I'm reminded of the incredible history this little village has, and the outstanding people it has inspired. And yes, Carl did get to see that beautiful mural before he left us.
Catrin Lliar Jones