In recent years SSi and the National Centre for Learning Welsh have developed a valuable working relationship. On the basis that the Welsh language belongs to all, we have formed a partnership which has begun adding new layers of language learning provision in Wales through some interesting initiatives.
To learn more about who The National Centre are, follow the link below:
Recognising that learning experiences vary greatly and that our neighbourhoods are constantly evolving, SSi and The National Centre have brought together the best of their expertise and experience to provide resources for individuals, schools, and localities throughout Wales.
We are already seeing improvements in how individuals from all generations and all cultural backgrounds are enjoying success on their Welsh learning journeys, which in turn will enrich our communities and workplaces and help reverse the language shift in Wales.
The National Centre's latest newsletter outlines some of the inspirational initiatives we've been working on together. Follow the link below to read the newsletter, and learn more about the new resources provided and hopes for the future.
On the day that London was brought to a standstill by a tube strike and a huge march by teachers, doctors and railway staff, SaySomethingin managed to get to the point of their ire, the Houses of Parliament.
Our CEO, Aran, donned his best, even polishing his green Doc Martins, as we had been invited to a House of Commons reception for Sri Lankan High Commissioner.
Why should we be in such an important place and talking with such exalted, non-Welsh, company?
Here at SSi, in addition to our core belief in the importance of the Welsh language, we believe that learning languages can contribute to an individual's growth in so many ways, emotionally, socially and economically.
We are currently developing Tamil and Sinhala modules, which are the two languages spoken in Sri Lanka. A local charity there, The Tea Leaf Trust, sees the ability for each language to speak each other and English as key to growth for so many.

At the reception, we met with important Sri Lankan officials including the High Commissioner's Deputy who is keen to meet with the Welsh Education Minister to find out more about our Welsh language pilot within Welsh secondary schools.
Further evidence that wherever you go in the world, everything always leads back to Wales!
In addition to promoting the Welsh language in Wales (and all over the world,) one of the core purposes of Saysomethingin is to extend the use of its unique language learning methodology to other indigenous and endangered languages.
To achieve this aim we need to understand how to market ourselves abroad, who to partner with in countries we would like to work in and build a robust export strategy.
Fortunately, we have access to a wide range of expert resources that can assist us with these and many other commercial activities through the Welsh Government's Business Wales initiative.
That is why we attended the Explore Export Wales 2023 conference at Cardiff City Stadium which was organised by Business Wales.
We were able to access top-notch advice around a myriad of export-related topics which, whilst not reading as an exciting top ten of subjects for the dinner table, are in fact vital to get right before we consider expanding our offer abroad – tax, IP protection, finance, trade agreements and training to name just a few.

There was also a chance to meet Welsh Government representatives who are based in the countries we may consider extending the SSi offer to. This local resource is vital to our building the right foundation before committing to any new language provision.
SSi went to a function earlier this week that served as a prelude to an exciting Welsh event to be held later in the year. We very well may attend, to demonstrate our e-learning platform to our Tech peers.

It is Wales Tech Week 2023, which will be held at the ICC, Newport, in October.

See for yourself at https://www.walestechweek.com
The presentation updated all attendees on how the event will promote Welsh Tech on the global stage through…
Illustrating the scope of opportunities for Welsh businesses to embrace local Tech
Building Welsh Tech talent – "from a talent pool to a talent ocean"
Showcasing Welsh innovation
Linking government, academia and business
A range of exhibitions, panels and specialist speakers are going to bring Tech to life around three key pillars…
Tech for good
Tech for the planet
Tech for tomorrow
To further develop our distinctive language methodology, SSi aims to take advantage of the exciting opportunities being explored by the Tech sector. We want to increase access to the Welsh language so that more people may learn it when, where, and how they want, in the most engaging ways imaginable.
We also would love for whatever tech we employ to be Welsh Tech!
SaySomethingin celebrated St David's Day in Dublin as part of a week-long Welsh Government Trade Mission to Ireland.
Following our desire to apply SSi methodology to indigenous and endangered languages, we enrolled on the Mission to explore possibilities with the Irish language.
The Welsh Minister for Education and Language, Jeremy Miles, was also in Dublin to promote the importance of increasing the use of Irish and Welsh languages. He visited a Dublin primary school that was teaching Welsh to its pupils and spoke with real heart about the importance of language in all aspects of culture.
We visited both Dublin and Galway and were fortunate enough to meet Irish language providers, bi-lingual universities and government officials that are the major influencers for the teaching of Irish at every level.
We really hope that we can work with these wonderful people to achieve in Ireland for Irish what we have done in Wales for Welsh. There is a long way to go and we have a lot to learn but we hope this mission is the start of a long partnership with our new friends in Ireland.
In addition to the meetings, we were treated to cultural events and musical performances that celebrated the Irish and Welsh cultures around St David's Day.
The Dublin Welsh Male Voice choir sang to us, bringing many to tears. Then the Irish violinist, Aoife Ni Bhriain, and Welsh harp legend, Catrin Finch, combined to share some mind-blowing original renditions that received a standing ovation!
We must thank Export Wales and the Dublin-based Welsh Government Trade team that organised so much and looked after us so well.
When SSiW was very young, one of the things which kept us going through those early days of cultivating were the little snippets of feedback we'd often receive from our learners. Like tiny green shoots in a new garden, we knew there was reason to hope that our methodology was succeeding in growing new Welsh speakers.
Our relationship with our community of learners has been essential to our growth and development. Not only does it serve as a constant source of hope and inspiration, but it's been essential in showing us how to best nurture and support learners and new Welsh speakers, therefore helping to strengthen the Welsh language.
Over the years we've been privileged to hear the most wonderful stories and testimonials. From tales of learners ordering a paned (cuppa) in Welsh for the first time, to those who've transformed their lives by moving to Wales to live and work through the medium of Welsh, our community's achievements never cease to amaze and delight us.
It is a pleasure for us to be able to share with you this ever-growing treasury of stories via our website and YouTube channel. We hope they inspire you as much as they do us.
Last week SSi attended the GlobalWelsh, Connect to London, event where eight awesome start-up Welsh companies pitched to a group of London-based business people, investors and entrepreneurs.
The companies were 2B Enterprising, Kaydiar, Bearhug, Used & Loved, Validient, Everknock, Pintech io and Voltric, covering a wide range of specialist sectors, from medical provision to electric vehicles, property to secondhand clothing.
We were able to stress the importance of the Welsh language to all attendees – all were really interested in how we see Automagic taking our offer forward. They all realised the importance of Welsh language provision once they had established their offer and secured their immediate funding.
The whole event was sponsored by our old friends, the Development Bank of Wales who introduced us to our wonderful Chairperson, Joanne.
It is wonderful to see such a vibrant, varied and proudly Welsh start-up business community seeking to influence so many interesting business sectors.
In early February SaySomethingin were invited to the launch of the new S4C programme, Stori'r Iaith, that explores what the Welsh language means to 4 presenters – actress and singer Lisa Jên Brown, The One Show's Alex Jones, comedian Ellis James and Countryfile's Sean Fletcher.

Held at the Millennium Centre in Cardiff and hosted by one of the show's presenters, Sean Fletcher, the event also celebrated the signing of a Memorandum of Understanding between S4C and the Welsh Government around the 2050 target of 1 million Welsh speakers.
After wonderful music was provided by the enchanting Welsh language singer, Bronwen Lewis, we were told about the need to make such a show to blow the myth of Welsh being both difficult and little used. The significance of assisting everyone in speaking Welsh as they, the speaker, see fit was strongly acknowledged.
Sean movingly told us how having been born in The Bronx, New York, then moving to Braintree, Essex, meant that he only started learning Welsh as an adult after promising to do so at his wedding into a fluent Welsh speaking family.
His learning process left him the feeling that his Welsh was not "good enough" despite his obvious desire to embrace the language. All agreed that Welsh speakers must accept non-grammatically correct use to encourage all newcomers to the language.
This was further music to our ears, as core to the SSi methodology is the idea that language memory is improved through making mistakes. Given this, we are eager to assist S4C and the Welsh Government in bringing about a genuine language shift in Wales.
At the end of January a SaySomethingin (SSi) initiative, we have been working on with the National Centre for Learning Welsh for the last six months, came to fruition.
In a star-studded, bi-lingual, multi-media launch, the SSi module that allows Arabic, Dari and Pashto speakers to learn Welsh direct from their mother tongue was introduced as part of the National Centre's "Croeso i Bawb" (Welcome to all) programme.
Appropriately the launch event was held at the centre for asylum seekers and refugees – The Oasis – located in the enticingly named Cardiff suburb of Splott.
Speakers included Jeremy Miles MS, Minister for Education and for the Welsh Language in the Welsh Government and Dona Lewis, the recently appointed CEO of the National Centre.
Polish and Syrian refugees gave moving speeches on their experiences studying Welsh and how crucial it was for them to do so. One person compared learning Welsh to receiving "a large warm hug" – what a wonderful description of what learning Welsh meant to her.
You don't need six degrees of separation to get from one Welsh speaker to another – it's rarely more than one or two. And sometimes the smallest villages are connected to the largest stories – it can be just a hop and a skip from rural Gwynedd to Hollywood or Radio 1. Here are a couple of the threads which have woven around my family and the village I grew up in.
Eleri was raised in Llanaelhaearn, a small village on the Llŷn Peninsula which sits below Tre'r Ceiri mountain, atop of which you'll find one of the best preserved Iron Age hillforts in the UK.

It is the village where Robert Lambert Gapper was born – the sculptor, art lecturer and designer of the Urdd Logo. It is also the village which was the centre of the largest recorded earthquake in Britain which measured 5.4 on the Richter scale – it took place at 6.56am on the morning of 19 July 1984. I was twelve at the time.
Eleri's family ran the bakery and the Glanrhyd shop on one side of the main road in Llanaelhaearn. My grandparents and my aunt ran the corner shop, Voelas Stores, on the opposite side.
Eleri attended the village school with her sister, her cousin, my older sisters and my cousins. I attended some years later with my brother, after an impassioned series of marches and protests in the early 70s were successful in keeping the small school open. It survived until the summer of 2020 when its doors finally closed for the last time.
Yes, we all knew each other in Llanaelhaearn, and those not related by blood or marriage were still aunts and uncles – even to this day I remain unsure as to who's officially related and who isn't.
This August I saw Eleri again for the first time in many years. You see, 50 years ago in August 1972, my cousin Eric (from Voelas Stores), married Eleri's cousin Elaine (from Glanrhyd). Eleri and her sister Margaret were their older bridesmaids and I (six months old) was their little flower girl. Last month, my cousins decided to share their 50th wedding anniversary celebrations with their extended family and so we all came together.
That one afternoon wasn't long enough for all the stories we had to share – stories from a small village community, stories fuelled by the albums of old photographs that were being passed from table to table.
I met Eleri's daughter, Sioned, for the first time that day – but her son, Owain, was unable to attend – I'd heard a rumour that he was busy feasting in the underground kingdom of Khazad-dûm.
Owain began acting when he was 11 years old, playing the role of Aled Shaw in the popular series Rownd a Rownd. Beyond that Welsh soap series based in the village of Porthaethwy on Ynys Môn, Owain's career went from strength to strength, and now he's playing a role in one of the greatest stories ever told.
On Friday evening, our family, like millions of others around the world, sat down to watch the first two episodes of the new Amazon Prime series, The Rings Of Power – and to see Owain play the role of the dwarf, Prince Durin IV. Although Owain himself never lived in Llanaelhaearn, I'd like to think that the shadow of Tre'r Ceiri where his mother was raised has in some way provided inspiration for his mountain dwarf ways.
I think that one reason why I love the peoples and communities in The Lord Of The Rings is because in some ways it reminds me of my upbringing in a small, rural Welsh community, and the inventive ways in which that community in the 70s and 80s pulled together to support each other.
The protests and marches to keep our village school open were just the beginning. At a time when adversity was hitting hard, when jobs were scarce, public transport insufficient and not many households able to afford owning cars, our small village needed a lifeline.
In 1970, Carl Iwan Clowes, his wife Dorothi and their son Dafydd Ieuan moved to Bryn Meddyg, the doctor's house in Llanaelhaearn. Carl was a socially conscious GP who became very aware of economic decline in the area and was very keen to make a difference beyond his medical practice. Carl became friends with my father and along with a few others they set up a village association with a view to improving the community. In the early 70s, Carl and my father took a trip to Oileán Chléire (Cape Clear), an island off the coast of County Cork. There they saw how the islanders had formed a cooperative to encourage self sufficiency, and create employment in various ways to strengthen the local community. As a result of their fact finding mission, Antur Aelhaearn was registered in Llanaelhaearn as the UK's very first village co-operative. Locals were able to buy shares in the scheme for £1, and the funds raised allowed them to start home-grown pottery and knitwear businesses.
Here's a short film from 1978 about Antur Aelhaearn – I'm the little redhead sitting on my sister's knee as she draws and paints.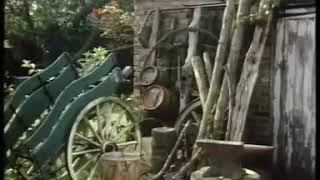 After the success of Antur Aelhaearn (or the Antur as we called it), Carl became the catalyst for the repair and regeneration of the old abandoned village of Porth y Nant. He set up a trust in order to buy the village, with the dream of converting it into a centre for Welsh language education.
A lot of hard work and financial support from various grants secured Carl's dream. Today Nant Gwrtheyrn offers both residential Cymraeg courses and online taster lessons for learners of all levels as well as being a very popular wedding venue. It also has an interesting visitor's centre, a cafe with one of the best views in Wales, some stunning coastal walks and is a wonderful place to stay.
During Carl and Dorothy's time in Llanaelhaearn, they had four children. Two of them, Dafydd Ieuan and Cian Ciarán, became members of the successful and very imaginative Welsh rock band Super Furry Animals. But it's not all about the music; much like their father, Cian and Dafydd have always kept environmental and welfare matters close to their hearts.
Carl, very sadly, passed away on the 4 December 2021 at the age of 77 – he still had so much more to give.
Llanaelhaearn isn't much to look at as you drive by. In fact you hardly notice it. It doesn't boast any notable architecture and both Glanrhyd and Voelas Stores closed their doors many, many years ago.
But all is not lost – Antur Aelhaearn is still going strong, as is a new community village garden cooperative. If you do ever find yourself in the area, please stop to see the wonderful mural painted on the side of the Antur building, which pays tribute to the creative people woven into the tapestry of this unassuming village.
Each time I pass through, I'm reminded of the incredible history this little village has, and the outstanding people it has inspired. And yes, Carl did get to see that beautiful mural before he left us.
Catrin Lliar Jones